Queer Political Ecologies for the White House
(FIG. 1)
A few days ago, I stumbled across a newspaper article about an online petition to restore the White House Rose Garden. Although not particularly interested in domestic White House gossip, I wondered what could have happened to raise such interest, and why the aforementioned garden was in need of restoration. I was also struck by the fact that it had been considered a newsworthy issue by The Guardian, Woman & Home, and The Architect's Newspaper. As Mitchell Owens wonders in his piece for Architectural Digest, "Who knew that 10 crab apple trees gone AWOL could spark nationwide outrage?"1
The petition was launched by Tennessee resident Liz Tapanes and, at the time of writing, it has more than 78,000 signatures. It reads as follows:


In 1961 President and Mrs. Kennedy had just returned from a state visit to France, followed by stops in England and Austria. The President had noted that the White House had no garden equal in quality or attractiveness to the gardens that he had seen and in which he had been entertained in Europe. There he had recognized the importance of gardens surrounding an official residence and their appeal to the sensibilities of all people. To honor Jacqueline Kennedy's contributions to the White House and its grounds, her immediate successor, First Lady Lady Bird Johnson, renamed the East Garden as the "Jacqueline Kennedy Garden" during a ceremony on 22 April 1965.
In 2019, Melania Trump had the cherry trees, a gift from Japan, removed as well as the rest of the foliage and replaced with a boring tribute to herself. Jackie's legacy was ripped away from Americans who remembered all that the Kennedys meant to us. We want Jill Biden and Doug Emhoff to take this on and restore the Rose Garden to Jackie's original [sic.] design. 2


Regardless of what I might think about the various people who are named in the text, their politics, or the specific garden designs involved, I find this petition deeply troubling. In fact, the unchallenged, apparently innocent assumptions about "nature" that is latent in each sentence have been driving factors behind the ongoing global ecocide.
In order to unpack some of these assumptions, and as an alternative framework to think with and intervene in "nature," I suggest what I term queer political ecologies, which fuses existing work on queer and political ecologies. Undertaken by geographers and political scientists, research on political ecologies has made visible the multiple ways in which nature is not merely a passive object "out there," but is both politicized and inherently political. Queer ecologies meanwhile, developed by scholars spanning ecocriticism and the environmental humanities, draws from queer theories, ecocriticism, black feminisms, feminist theory, and new materialisms, focusing primarily on how discourses of nature and the environment have been shaped by discourses of race, gender, class, or ableism. And vice versa: how discourses of race, gender, class, or ability have been shaped by discourses of "nature" in order to normalize certain forms of human and non-human reproduction, living and desiring.
I articulate the framework of queer political ecologies with the aim of reformulating the cohabitation between the human and non-human world. Taking queer practice as its starting point, it aims to search for the structures of normalization and naturalization within nature and society, which crossfeed between them and harm whoever (and whatever) does not comply with the norm. At its core, queering as a political practice embraces the intersections between race, class, ability, immigration status, and any other forms of alterity, seeking out coalitions between them. Queer political ecologies, then, serves as an umbrella term that aligns with, draws upon, and is inspired by a myriad of scholars, activists, and other individuals engaged in everyday struggles for social and environmental justice.
So, from a queer political ecologies perspective, the main problem of the petition is that it objectifies and normalizes nature, through a gendered and colonial approach to both nature and to society at large.


*Objectified


The garden is objectified as a means of decoration. Its role is to aesthetically please (some) humans, and its success is evaluated in terms of "quality or attractiveness," to the point where being "boring" is so unacceptable that the removal, replanting, and substitution of plant species are considered urgent, much-needed actions. Notably, the "good" and "attractive" plants are those that were present in the gardens where high society was "entertained in Europe"—in particular, in France, England, and Austria, those nations which were considered the epitomes of good taste during the nineteenth century. Nature thus becomes a representation of the taste of the settler colonizers, who mystify the glamour of the metropolis. The paradox of empire.
But queer/ing is always relational. Plants themselves are ecosystemic entities interconnected with animals, insects, other plants, fungus, the air… even in the context of a garden. Even in Washington, urban nature needs queer ecologies.


*Normalized


The garden is normalized to represent "the" national identity. For the author of the petition, the gardens of presidential residences should "appeal to the sensibilities of all people," and complains about how a specific image of the garden has been "ripped away from Americans who remembered all that the Kennedy's meant to us." Nature as representation was at the core of the domestication of "nature" in Europe and North America, from curated baroque palace gardens to so-called wild national parks. The problem of the petition in this regard is that it normalizes what it is to be American. All forms of alterity have been eradicated.
The petition's use of the third person plural ("we" and "us") signal representation or belonging, something that has historically been contested by queer and anti-colonial theories, as well as by political struggles. How can a minuscule garden come to represent a whole country? Who is included in that assumption? Do the gardens of all Americans resemble the Rose Garden? Who gets to decide who represents who? The "we" used here assumes a "normal" citizen: someone with a clear immigration status (American); entitled and with time enough to consider the plants in the Rose Garden an issue of concern (possibly middle class); and someone who can speak on behalf of "all people" (possibly white).
Other sensibilities and forms of understanding nature are also notably ignored by the petition. Other bodies are overlooked, too. In the restoration, the Rose Garden's surrounding path was widened and paved in limestone (a "boring" decision, according to the petition) to facilitate wheelchair access and to accommodate high-heeled guests. Furthermore, other representation strategies are also omitted. Michelle Obama's food garden, just five years earlier, did much more than simply "appealing to sensibilities." Instead, Obama's vegetables represented her commitment to fighting against food insecurity and offered a strategy to palliate it.


*Gendered


The petition also frames the garden as a space managed by women. Although it does make an appeal to the second gentleman, Doug Emhoff, the garden was designed by and named for Jackie Kennedy, and Jill Biden is made primarily responsible for "taking this [restoration] on."
Queer ecologies have revealed how understandings of nature are gendered, with damaging effects for non-conforming humans and non-human others. The garden as a site of domesticated nature and, therefore, a controlled and private space where women (can) rule is a heteronormative and patriarchal construct. The petition reinforces this by taking for granted that the Rose Garden affairs should be the responsibility of First Ladies, and by assuming that such Ladies have such power. But, as Mitchell Owens points out "the work was carried out by Oehme, van Sweden and Associates and Perry Guillot Inc., two award-winning American firms, under the direction of the 14-member Committee for the Preservation of the White House and the three-member Committee for the Preservation of the White House Grounds, plus 10 external advisers. That's a lot of expert cooks in the kitchen, among them the grounds committee's Leslie Greene Bowman, the president of the Thomas Jefferson Foundation; Richard C. Nylander, the curator emeritus of Historic New England; and Thammanoune Kannalikham, the low-profile White House interior designer."
Can we truly believe that Melania had a say? According to the petition, however, Melania is in fact not only responsible for the design but the current garden is her mirror: "a boring tribute to herself." The restoration of the garden thus exemplifies the patriarchal division between the good and the bad woman: Jackie versus Melania, an updated vision of "Snow White" versus the "Evil Queen."
These assumptions define the fate of roses, crab apples, or boxwood hedges. But what are the plants that would better thrive in Washington's climate? Which ones attract insects and other pollinators, or birds? Which are capable of regenerating the soil?


*Colonial


Plants are treated by the petition as a resource that can be added or removed at will. The garden must be restored "to Jackie's original design [sic.]," returned to its "original" state.
Postcolonial ecologies demonstrate how colonialism extracted and continues to extract from both human and non-human bodies and environments, beginning with land dispossession. As if rocks, trees, or animals did not belong to ecosystems from which they cannot be extricated without significant upheaval. But who decides when to intervene in "nature?" Who decides when to stop going back in time? Back to Jackie Kennedy's design, back to the stables that existed before the Rose Garden, 100 years ago? Perhaps they should go back even further still and recognize that Washington was first the land of the Nacotchtank and Piscataway nations, and should be an object of restitution to Indigenous peoples? The possibility to choose where exactly to stop in time suppresses histories of colonial violence. The Rose Garden petition then is more than just a curiosity or an enactment of the cultural wars. More than this, it is an anti-queer political ecologies manifesto, and its approach is precisely what needs restoration.
1.
Mitchell Owens, 'The Controversial Story Behind the Rose Garden,' 27 August 2020, Architectural Digest, https://www.architecturaldigest.com/story/the-full-story-behind-the-controversial-rose-garden-redesign.
2.
'Restore Jackie Kennedy's Rose Garden,' https://www.change.org/p/dr-jill-biden-restore-jackie-kennedy-s-rose-garden.
(FIG. 2)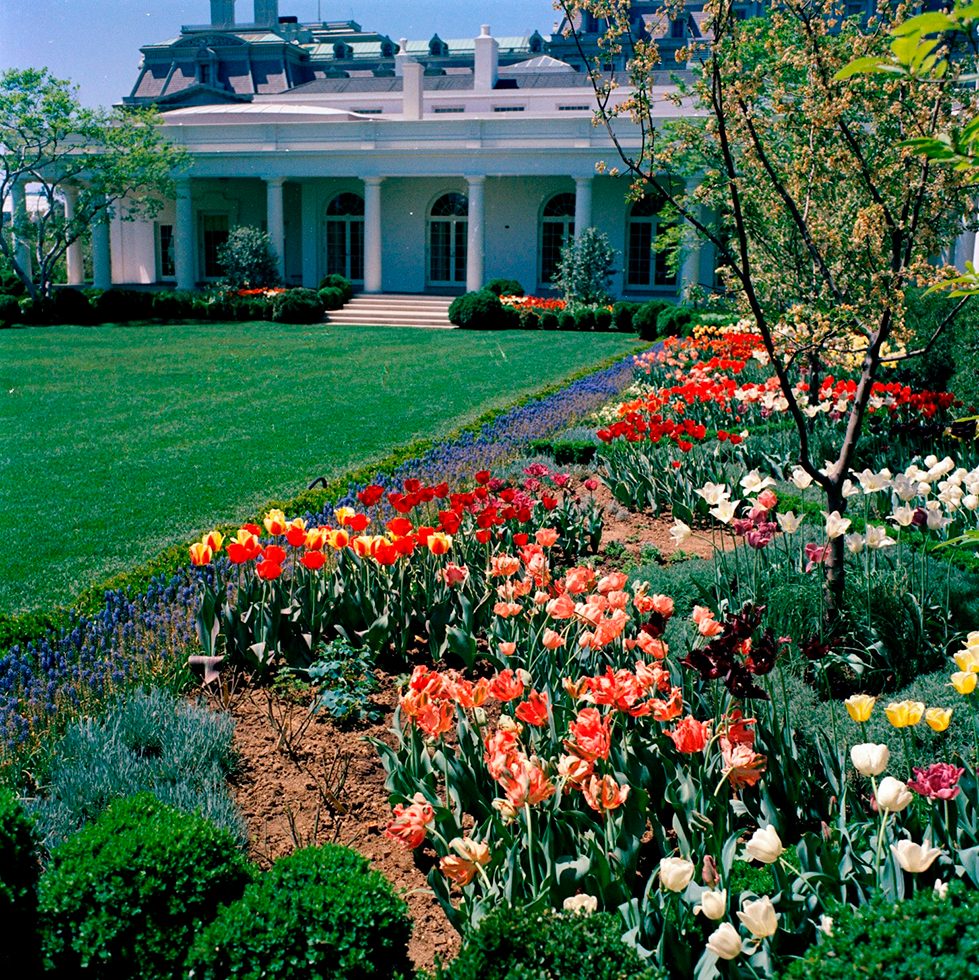 Nerea Calvillo is an architect and researcher. She is currently an associate professor at the Centre for Interdisciplinary Methodologies at the University of Warwick, director of the architecture office C+ arquitectas, and founder of In the Air, an ongoing collaborative project.