Walk on the Wild Side: Sweet Homes in Emirates City, Ajman
The prestigious Burj Khalifa, currently the world's tallest building, provides luxury housing and office spaces, along with shopping, entertainment, and dining, in the prime Downtown Dubai development. Affluent investors from India, who owns almost 20 percent of the 900 apartments in the tower, have over the years been joined by a buyer elite from countries affected by the Arab Spring and other anti-government protests, such as Egypt, Iran, or Lebanon, in search of safe havens for their funds.1
Every night, Burj Khalifa is bathed in the glittering lights of the famed dancing fountains that erupt at its feet to the sounds of Andrea Bocelli and Sarah Brightman's "Con te partirò," the Arab dance hit "Shik Shak Shok," and Lou Reed's "Walk on the Wild Side." But a little more than half an hour's drive away, the construction site of Emirates City—another development envisaged to include picturesque lakes and parks, lavish shopping facilities, mosques, five-star hotels, and educational and medical facilities—stands more or less deserted. Sand-shrouded, the only living creatures in the vicinity are a few camels grazing along its perimeter. Both developments were born out of the investment boom that followed the turn of the millennium and attracted expatriates of various nationalities, especially Indian, British, and Pakistani, to buy properties in the United Arab Emirates, yet the two sites seem worlds apart.2 While the Burj Khalifa still stands as a shining testimony to the global power of real estate speculation, Emirates City—employing similar sales tactics but operating on a lower level of investment—fell victim to the financial collapse of 2008, when the mortgage flows needed for its completion dried up. Located ten miles inland, in Ajman, the smallest emirate in the UAE, this monstrous concrete assemblage has become a monument to the shattered dreams of small-scale investors from Iran, Pakistan, India, and the Middle Eastern diasporas across Europe and North America.
(FIG. 1)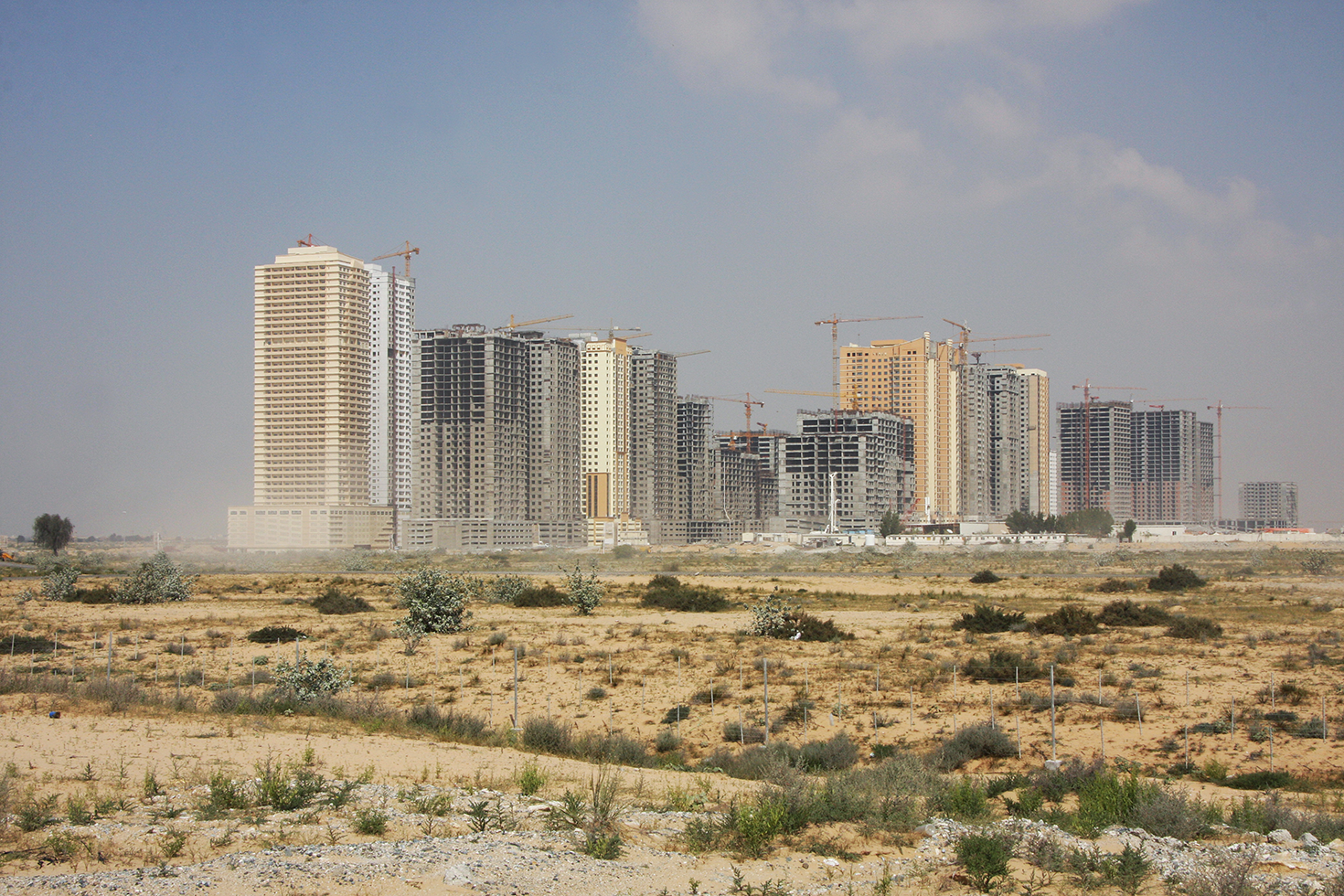 (FIG. 2)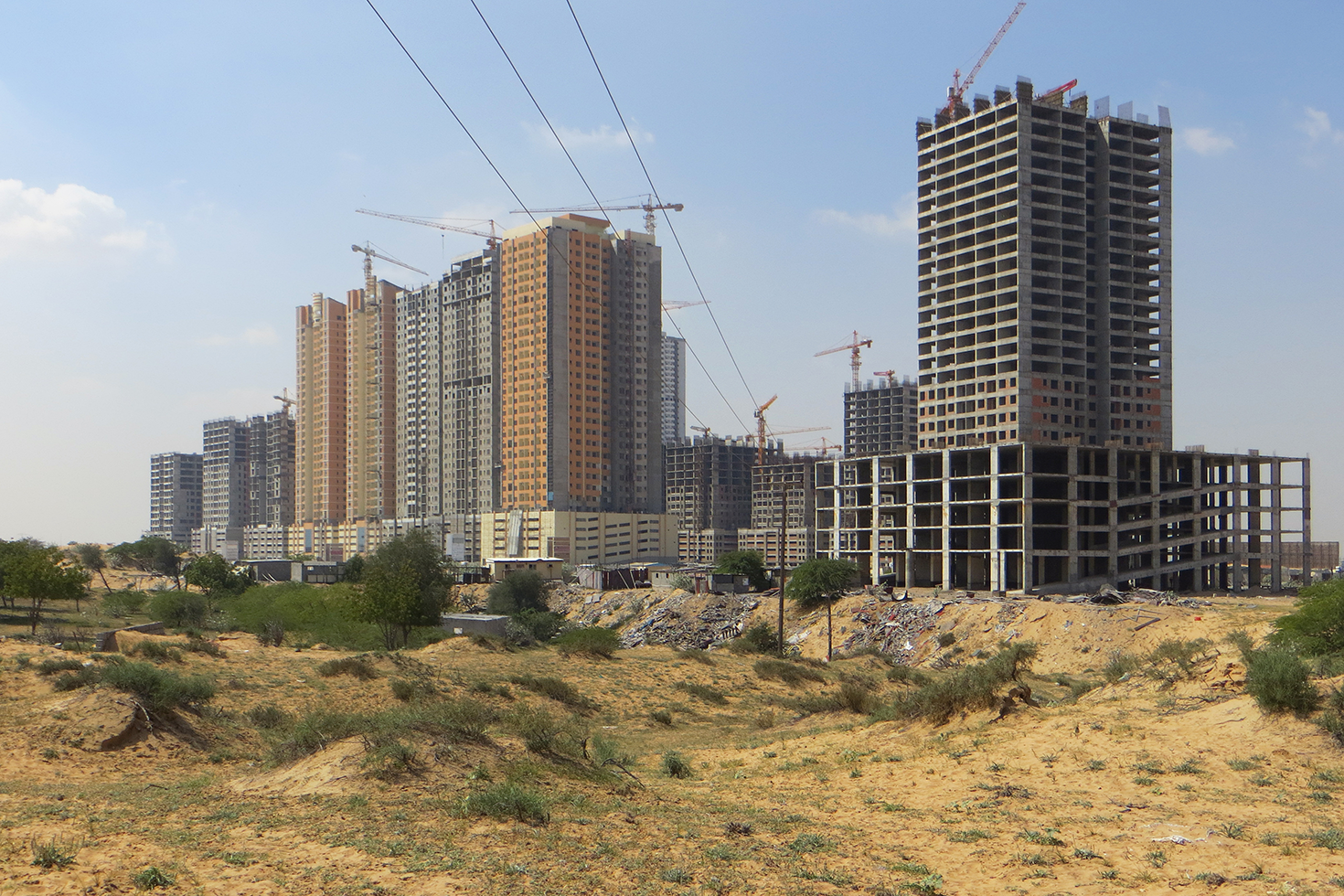 Strategically positioned directly along Emirates Road, a key traffic corridor in the UAE, Emirates City was one of the last schemes to jump on the Dubai bandwagon of glamorous, supply-led development. Racing to outdo each other in demonstrating economic vitality through breath-taking architectural gestures, real estate development companies competing for Arab and non-Arab investors produced grand visions such as the gigantic Palm Jumeirah land reclamation project, which was followed by the even grander Palm Jebel Ali and Palm Deira proposals, and the now-stranded islands of The World.3 These interrelated large-scale developments tried to emulate the earlier success of developments such as Downtown Dubai and Dubai Marina by way of borrowing, replicating, and amplifying such infrastructural typologies as gated communities, business districts, and waterfront developments. In keeping with this spirit, the master plan of Emirates City envisaged the construction of around seventy-two mostly residential towers bearing evocative names such as Paradise Lake Towers, Goldcrest Dreams, and Fortune Residency Tower. But work on the site commenced only a few months before the onset of the global financial crisis and was halted soon thereafter. A handful of towers were topped out but most were abandoned at half-height, while others barely rose above their foundations. In 2014, a few workers were hired to attend to the site from time to time in order to create an impression of progress in the hope of fending off legal or government interventions and convincing investors to resume their payments. In many places, the concrete skeletons had already fallen into severe disrepair, with reinforcement girders laid bare by erosion. Although several towers have now been completed and work on other towers has slowly picked up, a pattern can be discerned that echoes the dynamics of other international investment hubs: while successfully branded urban centers such as Downtown Dubai are attracting global interest and prices are spiraling upward once again, peripheral sites such as Emirates City are being left behind.
(FIG. 3)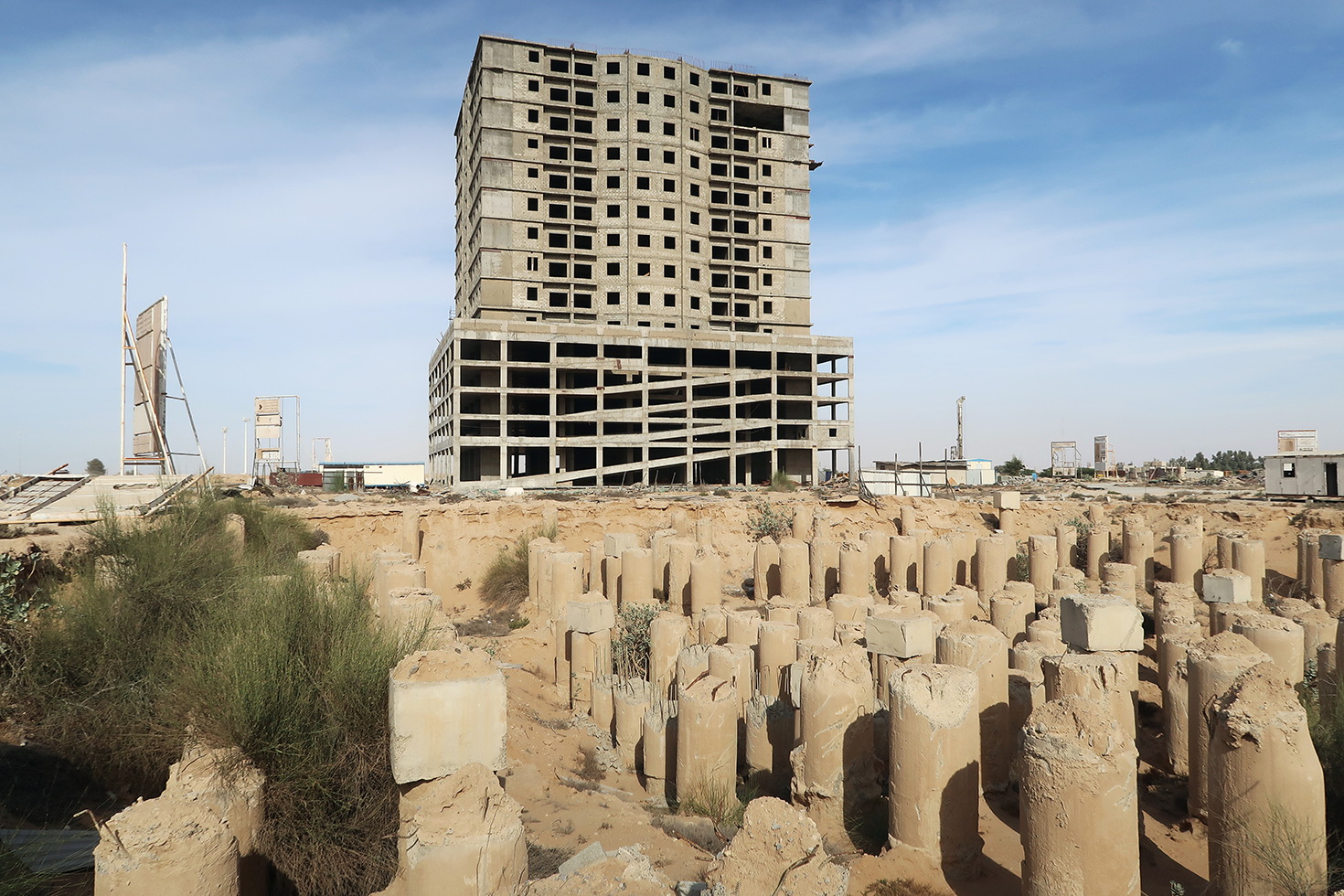 (FIG. 4)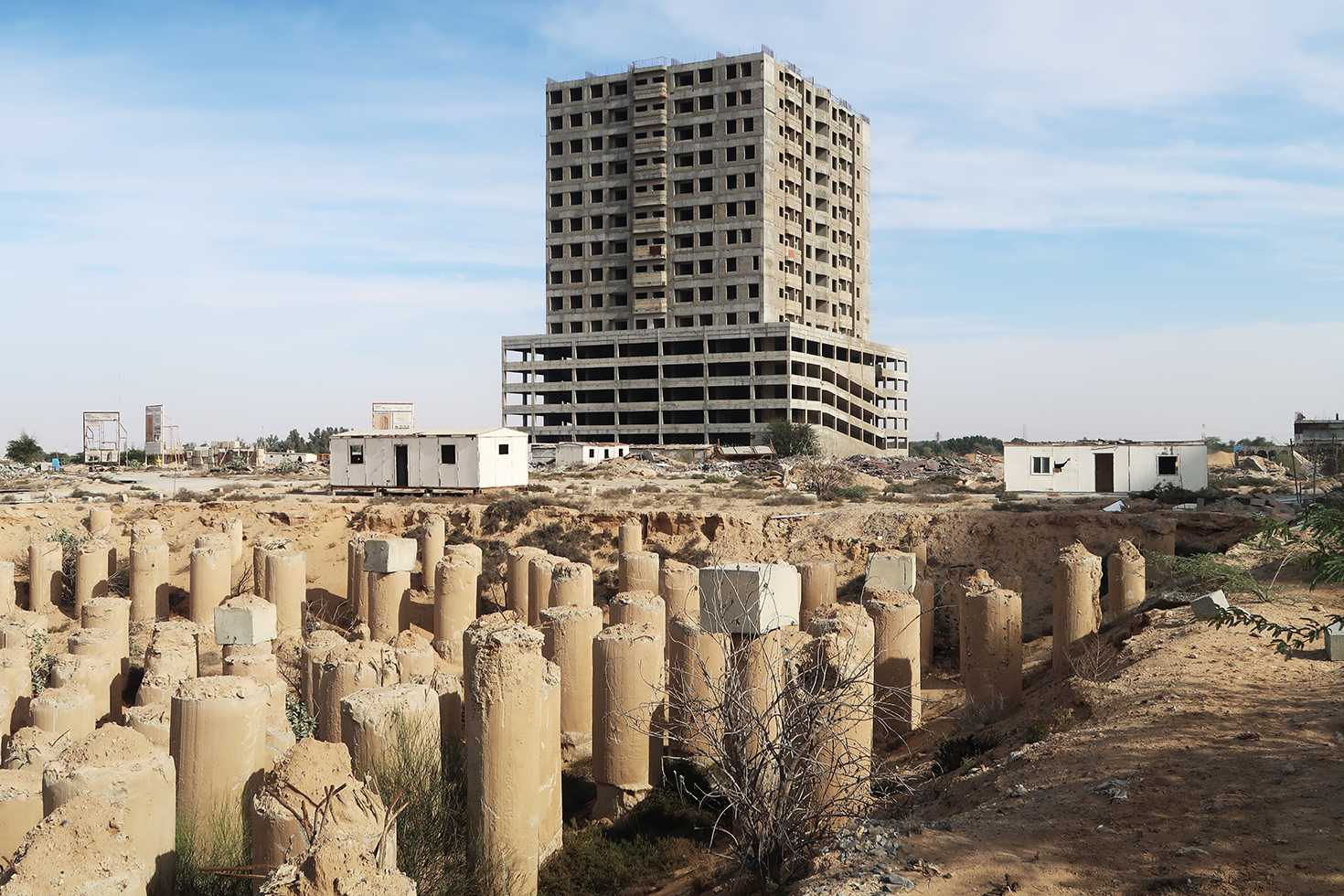 Even those towers that appear finished on the outside remain uninhabitable, and investors cannot take possession of their properties because Emirates City lacks the most rudimentary infrastructure, such as reasonable road access. In stark contrast to the glossy advertisements depicting solitary skyscrapers amid greenery on the shores of an artificial lake, the ghostly structures are packed close together like a nightmarish vision from a version of Blade Runner set in the desert. None of the towers sport the glamorous crowns of penthouses or iconic architectural features that were originally advertised. The monotonous replication of the same template of podium-towers—bland apartment floors sitting on top of a multilevel parking structure—only adds to their alien appearance and disconnection from the desert surroundings. Looking at the plans, it becomes clear that the vision of an "avant-garde lifestyle" would never have materialized even if building had been completed.4 Ignoring the fact that the towers are located in the middle of nowhere at a density that rivals Asian cities such as Hong Kong or Singapore, tightly packed one-bedroom apartments were sold as free-floating commodities valued in terms of unit numbers and promised amenities.
Iranians and members of the Indian diaspora from southeast Africa along with the odd European investor were lured to this fictitious environment and into risking their life savings by the combination of "true 100 percent freehold ownership" (a popular advertising slogan on numerous property websites at the time of writing) and the promise of resident visas for the immediate family. But hopes for residency were dashed when, in 2008, the government of Ajman renounced the prospect of residency visas for property investors, causing a further drop in market values.5 Since then, blogs have been awash with the concerns of remote investors still clinging to promises of resumed building work and desperately trying to get hold of some real value, fighting their way through the online jungle of property resale and swap deals.6 In 2014, the stagnating building site was screened off from passers-by on Emirates Road by a giant billboard displaying, in large golden letters, the rather ambivalent slogan, "It can only grow BIGGER the next time you pass by."
(FIG. 5)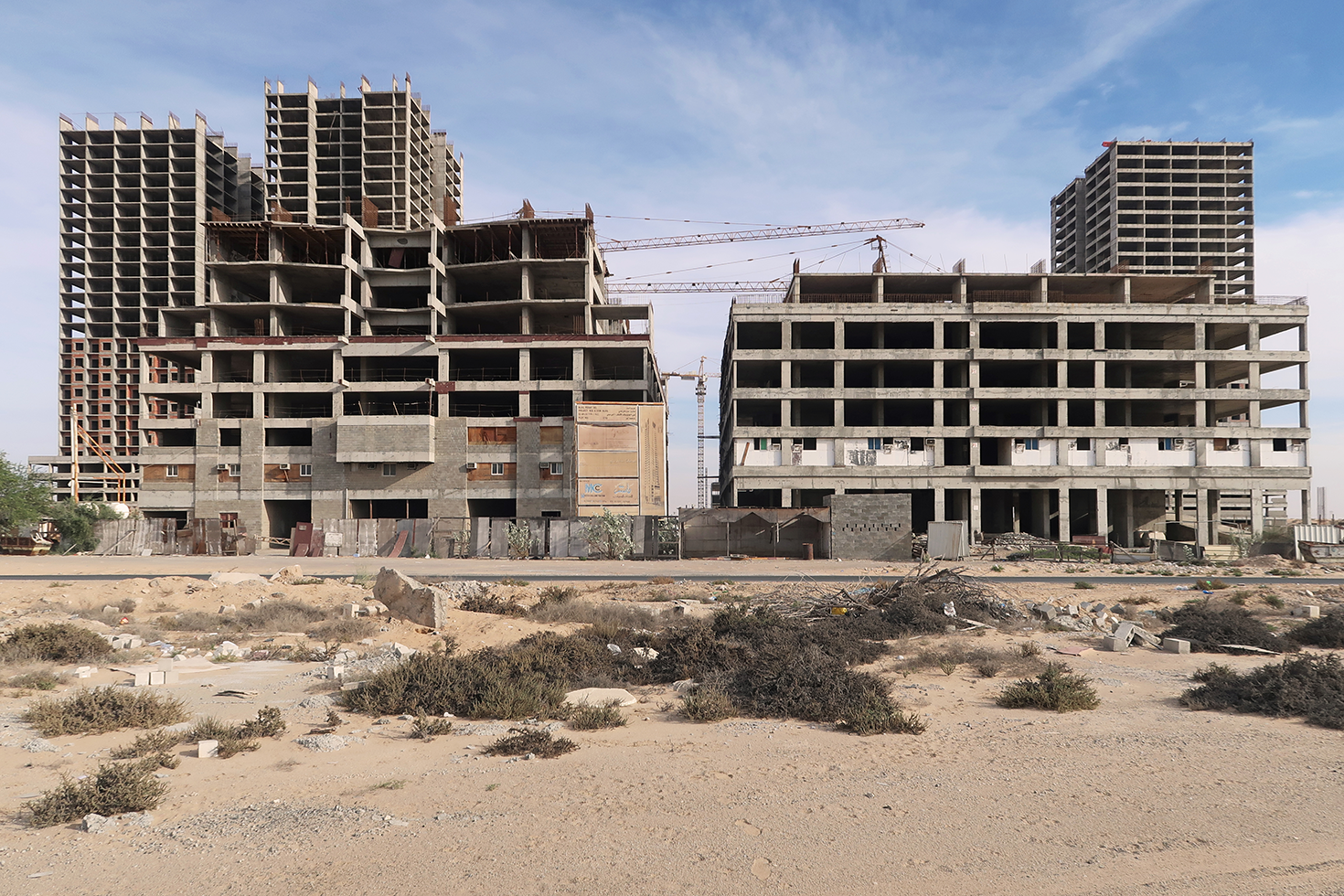 As of January 2019, out of a total of seventy-two originally conceived plots only thirty-five still had a developer assigned to them. Of those, entries on the Emirates City Ajman blog considered ten sites to be completed and a further nine to be under construction, bringing the total number of projects which were still on hold—a decade after the global financial crisis had first brought work on what real estate agents ambitiously described as a "city-wide development" with "immeasurable social and economic benefits"7 to a grinding halt—to fifty-three.8 In 2014, Sweet Homes, one of the few developers which have actually managed to complete some of the buildings, albeit very slowly, began trying to redirect interest in alternative residency arrangements to their neighboring but equally failing development of Ajman Uptown by offering potential investors in Ajman Uptown villas and apartments packages linked with Antigua and Barbuda citizenship.9
(FIG. 6)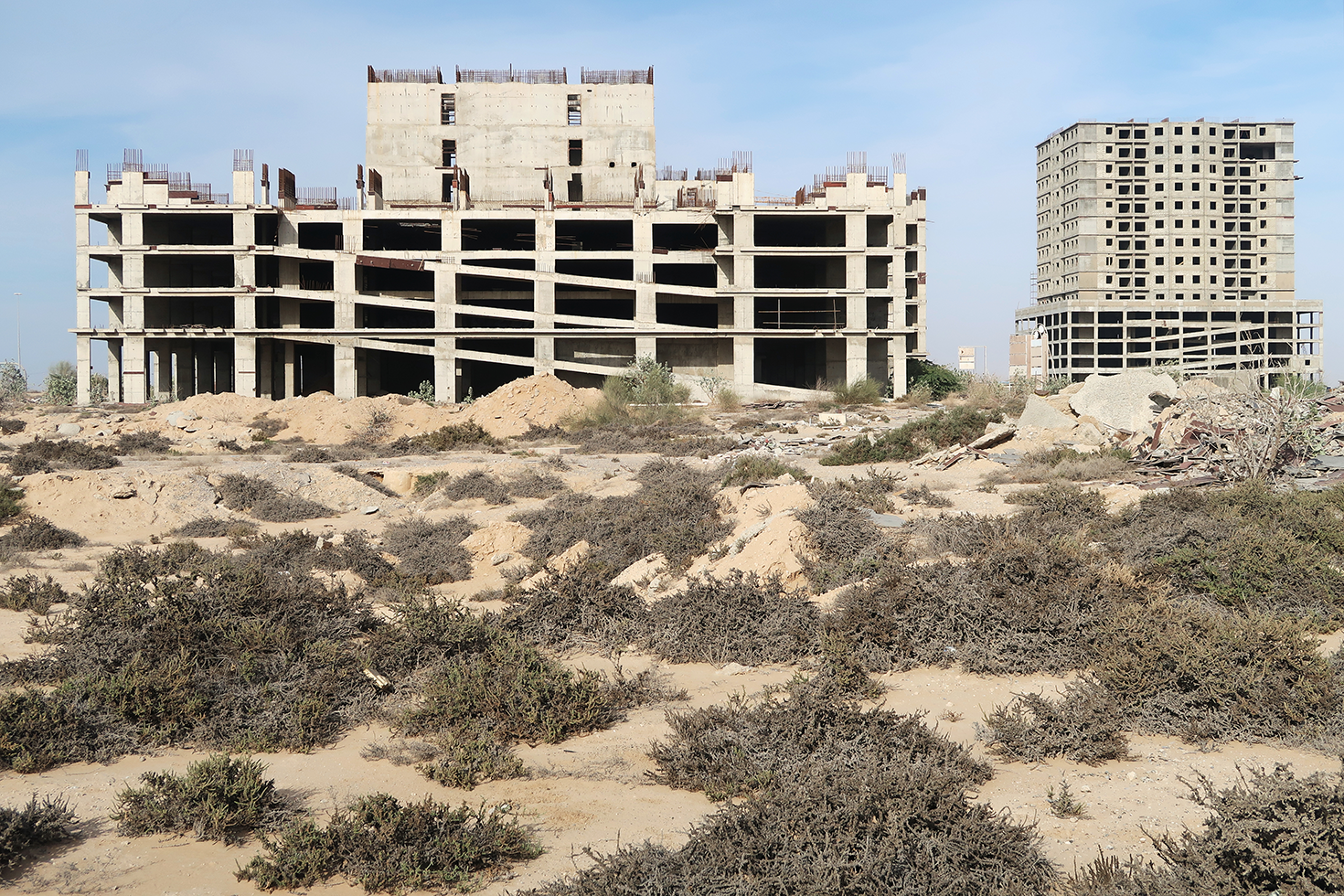 (FIG. 7)
What is striking here is the coordination across national boundaries underpinning such packages, which entail the government of Antigua and Barbuda extending its territorial jurisdiction to a development project in the Emirate of Ajman, pursuant to Section 42 of the Finance Administration Act 2006.10 According to early communication by the developer this meant that by buying properties in Sweet Homes' Ajman Uptown development—and donating an additional $200,000 to Antigua and Barbuda's National Development Fund—purchasers would acquire the benefit of being considered high net-worth individuals and thus be "eligible for citizenship of Antigua and Barbuda."11 In turn, Sweet Homes was permitted to retain ten percent of the NDF donation in exchange for recommending "wealthy citizens of the highest standard of integrity."12 Initial promotional material also suggested that those purchasing the Sweet Homes package would be given a 25 percent discount on the NDF donation.
(FIG. 8)
(FIG. 9)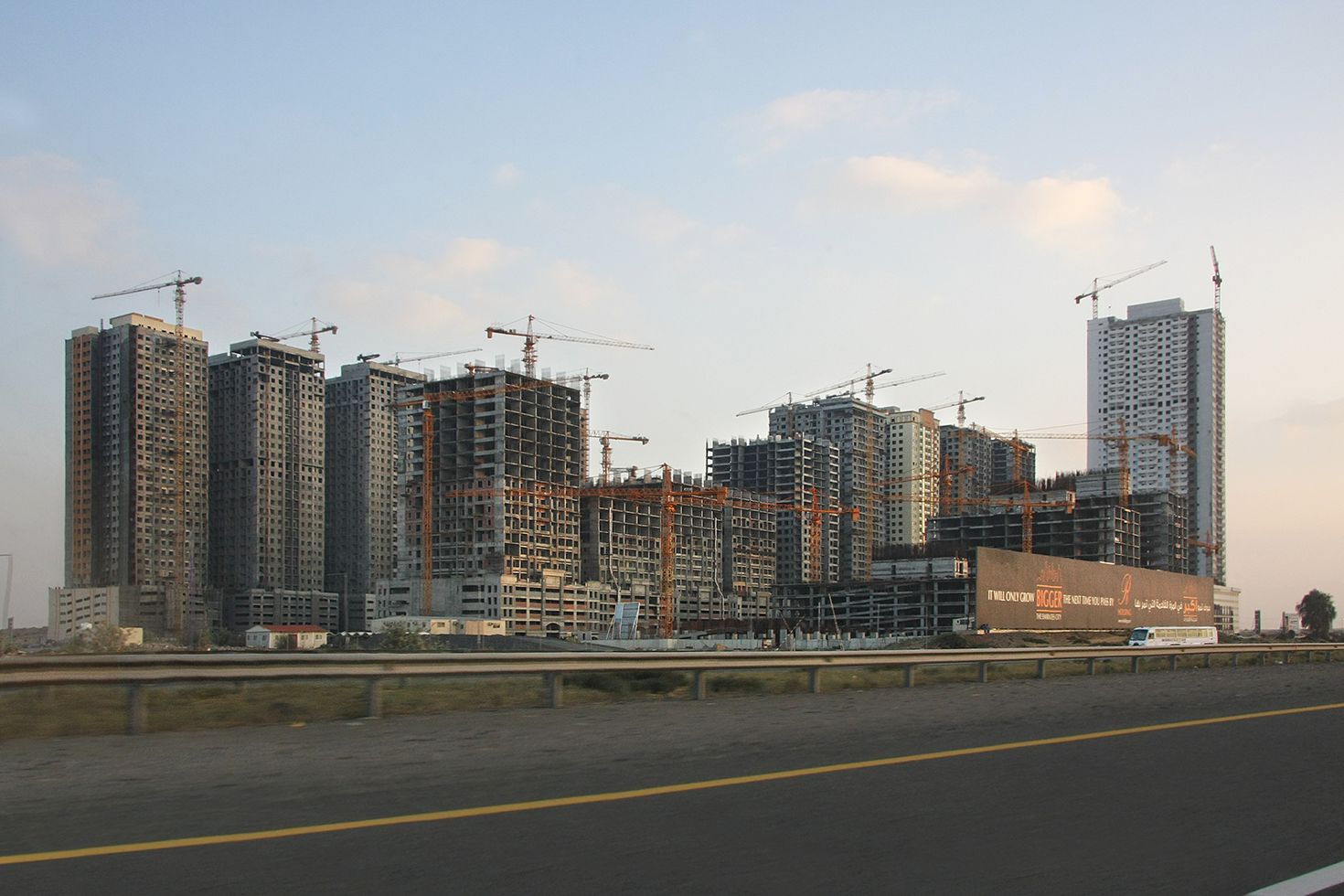 At the beginning of 2019, Antigua and Barbuda reduced the required donation to $100,000 and sales offers listed on the Sweet Homes website promised further waiving of fees worth tens of thousands of US dollars when applying for citizenship of Antigua and Barbuda in conjunction with the purchase of the selected Emirati properties.13 The benefits of the promoted citizenship-by-investment program—which would enable investors to become members of the Commonwealth—are described as including "citizenship and passport within three months," up to "5 passports for dependent family members," "visa-free travel to 132 countries, including the UK" as well as "no tax on foreign income" and "duty-free trading in the Caribbean." All of which only require spending five days within five years in Antigua and Barbuda, coupled with the promise that there would be "no notification to your home authorities of your new citizenship."14
As to the claim of savvy investments with promising returns, at the beginning of 2019 Sweet Homes' online sale prices for flats in the now "completed" Paradise Lakes Towers averaged AED 350 per square foot, which translates into approximately $160,000 (or €130,000) for a 150 square-meter three-bedroom flat.15 To put this into context, when off-plan selling boomed in the years from 2006 to 2008 construction costs alone were estimated at AED 350 per square foot. With added average land costs in Ajman at that time of AED 75, a threshold of AED 450 was considered to be the necessary minimum for ensuring not only that developers could make a profit, but also that such projects would take off and could actually be realized in the first place. In comparison, typical sales prices for flats in the far more popular emirate of Dubai averaged AED 1,800 (approximately $490) during this period.16
As many flats were originally bought off-plan by overseas investors, most of them—when once in a while a tower is actually completed—are put on the rental market. Targeted primarily at expats from non-Western countries who work in low-paid service sectors and cannot afford to live in the pricier neighboring Emirates, annual asking rents for eighty square-meter one-bedroom flats at the beginning of 2019 were typically in the region of AED 18,000, at the time of writing equivalent to $4,900 (or €4,100), which is significantly lower than in 2015, when asking rents for one-bedroom apartments in newly finished towers were in the region of AED 30,000 annually (approximately $8,100 or €6,700).17 This drop in rents has been attributed to, among other things, the fact that development formats in other Emirates, such as Dubai, have "broadened" to increasingly include more affordable segments that allow people employed there to move closer to their workplaces.
The sites of Downtown Dubai and Emirates City are indicative, on the one hand, of the triumphant excess of the politically administered "liberalization" of global capital flows and, on the other, of the many casualties left in the wake of its cycles of boom and bust. What binds their fortunes together is how an architectural aesthetics that signals luxurious quality and style is being deployed to connect actors from around the world and to tie their wealth to property options based solely on financial speculation. In our current era of what may best be described as "affective capitalism"—tapping, channeling, and directing capital flows by utilizing emotional ties—contemporary architecture is increasingly implicated in the maneuvers and manipulations of speculative economies, and in the process is being transformed from a physical environment in which human lives are lived into a mode of operation.
1.
See the annual reports on real estate investment by the Dubai Land Department.
2.
Key to opening up this market was a decree by Sheikh Mohammed bin Rashid Al Maktoom in May 2002, which permitted foreign investors to acquire property in selected projects by government-related developers such as Emaar (the developers behind Downtown Dubai) and Nakheel (the developers behind the Palm Islands). A new property act passed in March 2006 extended these rights to a series of dedicated special development zones. The geographic background of investors (with a sizeable proportion of investors from India, Pakistan and Iran as well as Middle Eastern diaspora communities) has been relatively stable throughout the ups and downs of the real estate market; see the annual reports by the Dubai Land Department, the government department responsible for registering real estate transactions in Dubai, e.g. the 2015 report (Dubai Land Department, 2016).
3.
See Stephen J. Ramos, Dubai Amplified: The Engineering of a Port Geography (Farnham: Ashgate Publishing, 2010), pp. 140–163.
4.
Along with 'modern gracious living' and 'substance to your dreams,' 'avant-garde lifestyle' is an attribute used in the description of Emirates City properties marketed to foreign investors. See for example 'Paradise Lakes Tower B7' (2016).
5.
'Ajman Freezes Freehold Visas' (2008). In June 2011, the UAE's federal government introduced a new three-year visa scheme for property investors in order to boost the country's economy: 'UAE Extends Property Investor Visas to 3 Years.'
6.
See the long-running discussions in online forums such as the Emirates City Forum http://emiratescity.org/ as well as a series of online petitions by aggrieved buyers to the government of Ajman (e.g. 'Ajman Real-estate Regulatory Agency (ARRA) and Ajman Government: Refund our Money').
7.
http://propdubai.com/realestate/location/19/index.php.
8.
Emirates City Buildings or Tower List, http://emiratescityajman.com/emirates-city-buildings-or-towers-list/.
9.
Links on the Sweet Homes website inviting visitors to explore individual towers lead to rather dreary looking images of bare building shells of raw concrete; http://www.sweethomesgroup.com/pages/Paradise-lakes-tower-update. Initially, the Ajman Uptown development advertised its plans to comprise more than 1500 three-storey French Style VIP villas and townhouses, but only a few rows of terraced houses had reached quasi completion by 2019.
10.
Section 42 in very general terms allows for the establishment of 'Special Funds'; see http://laws.gov.ag/acts/2006/a2006-23.pdf.
11.
Citizenship via investment programs have become a common feature in the economic politics of offshore investment havens in the Caribbean such as the islands of St Kitts and Nevis, or Antigua and Barbuda. The initial agreement between the federal state of Antigua and Barbuda and the Ajman-based Sweet Homes developer dated 19 November 2014 was announced during a visit by the former's prime minister to the UAE in December 2014, http://www.godubai.com/citylife/press_release_page.asp?PR=94360&SID=1.
12.
https://www.caribbeanlifenews.com/stories/2015/4/2015-04-09-azad-roundup-cl.html.
13.
According to the report on the period from 1 January to 30 June 2018 compiled by the Citizenship for Investment Unit of Antigua and Barbuda, 30 percent of applicants during this period were from China, followed by eight percent from Syria, six percent each from Russia and Nigeria, five percent each from Turkey, Egypt and Libya, and so on. See http://cip.gov.ag/cip-6-month-report-1st-january-2018-30th-june-2018/.
14.
http://www.antigua.ae/property/Immigration.
15.
http://www.sweethomesgroup.com/properties-for-sale.
16.
Nathalie Gillet, 'Property slowdown hits Ajman's frontier,' The National, 1 December 2008, https://www.thenational.ae/business/property/property-slowdown-hits-ajman-s-frontier-1.519399.
17.
'1 Bedroom apartments & flats for rent in Emirates City, UAE,' Dubizzle, https://ajman.dubizzle.com/en/property-for-rent/residential/apartmentflat/in/emirates-city/62256/and/1-bedroom/.
Peter Mörtenböck is Professor of Visual Culture at the TU Wien, co-director of the Centre for Global Architecture, and a research fellow at Goldsmiths, University of London, where he has initiated the Networked Cultures project. Helge Mooshammer is an architect, author, and curator. He conducts research in the Department of Visual Culture at the TU Wien, is one of the directors of the Centre for Global Architecture, and is a research fellow at Goldsmiths, University of London.
Together, they curated the Austrian Pavilion at the 2021 Venice Architecture Biennale and co-edited Platform Urbanism and Its Discontents (2021) and Data Publics: Public Plurality in an Era of Data Determinacy (2020).